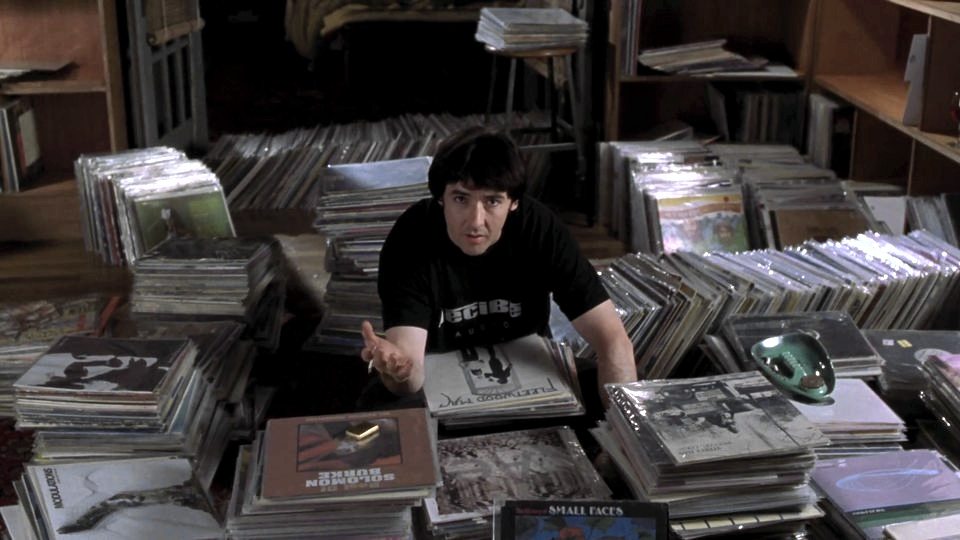 I agreed that what really matters is what you like, not what you are like… Books, records, films — these things matter. Call me shallow but it's the fuckin' truth…

Rob Gordon, as played by John Cusack in, "High Fidelity".
Rob Gordon was a genius. I don't think he was being shallow. I once dated a woman who remarked that Justin Bieber was the greatest musician of "ALL TIME" and when pressed as to if he were more talented than Michael Jackson, Prince and Paul McCartney…she doubled down. That was the last date.
I've always been an audiophile and I've always been fascinated with vinyl. I blame my dad for having a killer vinyl collection that he refused to let me touch as a major reason for my interest. If you can't have it. If you can't touch it. But, it's universally believed to be desirable. Well, you kinda get attached.
What I never had any interest in doing though, was to collect to just collect. I have friends with stacks and stacks of wax in milk crates. I think I've evolved beyond the milk crate. Also – across all walks of life, I've always been about quality and not quantity. To that end, I never purchased a record player because I wasn't sure about the type of vinyl collection I wanted to have.
A few years ago I decided that my vinyl collection would be limited to 100 albums. I'd get to pick 50. Nichole could pick 50. And then…that was it. As stated in Indiana Jones and the Last Crusade, "choose wisely". The beauty of vinyl was that you couldn't really skip around like you could on a CD or just create your own playlist from the best songs on an album. For all intents and purposes, you have to listed straight through from the first song to the last. Because of that, there was only one rule – no greatest hits albums. And that's what makes choosing my 50 so dang tough.
I can finally say that this project is complete. Well, to be fair, my portion of the project is complete. I have a list of 50 and have them in-hand or on-order. Choosing the albums was an incredibly fun adventure. I started with albums that were no-brainers that I'd been listening to for years. For example Abbey Road by The Beatles and The Notorious BIG's debut album, Ready to Die. Then I thought about songs that I had on repeat and explored the album that they came from. Where it got tricky were albums that only had 1 or 2 songs I really loved, but the rest of the album was meh. For example Dr. Dre's 2001 or any Johnny Cash album (sorry Cash fans). That's when I started investigating live albums. Any wow…there are so many amazing live albums. A few I already had on my list, like, Peter Frampton's Frampton Comes Alive album. But, others I had never heard before and it was a joy discovering them.
Here's where I landed:
AC/DC – Back in Black
Adele – 21
The Allman Brothers Band – At Fillmore East
The Band – Music From Big Pink
B.B. King – Live at Cook County Jail
Beach Boys – Pet Sounds
Beastie Boys – License to Ill
The Beatles – Abbey Road
The Beatles – White Album (From my Dad's collection)
Billy Joel – The Stranger
The Black Keys – Rubber Factory
Bob Dylan – Nashville Skyline
Bob Dylan – Time Out Of Mind
Bob Marley and the Wailers – Live (From my Dad's collection)
Bruce Springsteen – Born in the U.S.A. (From my Dad's collection)
Cat Stevens – Tea for the Tillerman
Cheap Trick – Live at Budokan
Chris Stapleton – Traveler
Coldplay – A Rush of Blood to the Head
Dave Matthews Band – Crash
Elton John – Honky Chateau
EPMD – Strictly Business
Frank Sinatra – The Main Event Live
George Michael – Faith
Guns N Roses – Appetite For Destruction
James Brown – Live at the Apollo II
Jimi Hendrix – Are You Experienced
John Mayer – Room For Squares
Johnny Cash – Folsom Prison
Kanye and Jay Z – Watch The Throne
The Killers – Sams Town
Led Zeppelin – IV (From my Dad's collection)
Marvin Gaye – What's Going On (From my Dad's collection)
Michael Jackson – Thriller
Norah Jones – Come Away With Me
The Notorious BIG – Life After Death
The Notorious BIG – Ready To Die
Paul McCartney and Wings – Band on the Run
Peter Frampton – Frampton Comes Alive
Pink Floyd – Dark Side of The Moon (From my Dad's collection)
Pink Floyd – The Wall (From my Dad's collection)
Prince and the Revolution – Purple Rain
The Rolling Stone – Let It Bleed
Sam Cooke – Ain't That Good News
Santana – Abraxas
Simon and Garfunkel – Bridge Over Troubled Water
The Weeknd – Beauty Behind the Madness
The Who – Tommy
U2 – Joshua Tree
Wutang Clan – 36 Chambers
Beyond the list – the hunt for which version of an album was truly fun. The albums from my dad's collection are all original first pressings and that makes things damn cool. Not only was it an original and not a re-pressing, it was the same wax he spun in the 60s, 70s and 80s.
I can't say this approach is for everyone, but it was definitely right up my alley. It was the perfect mix of left brain and right brain thinking. Now – to listen and enjoy.